Lafayette High School - Williamsburg, VA
Class of 1980
ANNOUNCEMENTS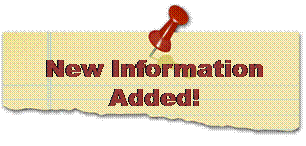 September 11, 2016: Hello Classmates! I know it has been a while since the site was updated, but it is still very active. Welcome to the classmates who have joined recently.
Please see the information below about the First Annual Memorial Ride and Pocker Run in Honor of Bill Iversen supporting the Law Enforcement United (LEU). October 7/8th, 2016. We are hoping that many classmates can attend and we can have a mini-reunion. Please pass this along to any LHS classmate you may know. I'll be there both Friday and Saturday nights. -- Kathy Brice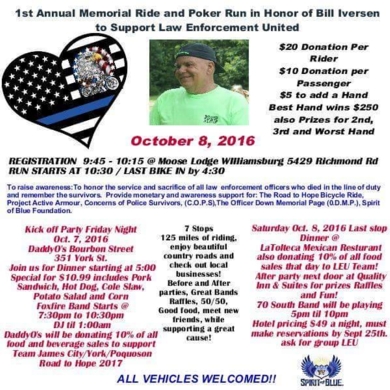 I will have the dishwasher safe, Lafayette High School pint/iced tea glasses available for purchase with proceeds going to LEU. Cash/checks only for glasses ($9 each), must arrange pick up in Williamsburg from me Friday evening, Saturday or early Sunday (Oct. 7/8/9) or pay for shipping. Message me on this site or kbrice@gmail.com to reserve glasses. Quantities are limited. -- Kathy Brice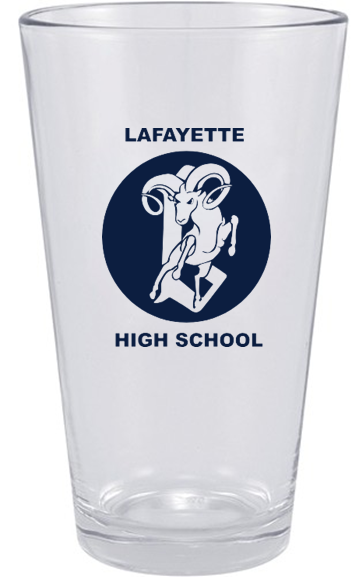 March 28, 2016: Bill Iversen
For those of you who don't already know, we lost a good friend to the Class of 1980 last week. Here is his obituary and his "Celebration of Life" service was held this past Saturday where hundreds attended. At the end of the notice is a place where you can make a donation in his name if you are so inclined. Bill, you put up the best of fights and you are gone way too soon. We will miss you, Bill!
William Lee "Bill" Iversen
February 19, 1961 - March 22, 2016
Heaven gained a beloved angel early Tuesday morning, an amazing husband, father, pawpaw, son, brother and friend to all.

He is survived by his wife and best friend Mary Shook Iversen; daughters, Allyson Iversen and Paula Corralejo (John); granddaughter, Savannah Corralejo, father, Leonard Robert Iversen Sr. "Ike", brother; Bob Iversen, sister, Annette Osterbind ( Toney ); mother in law, "Mama Kay" Shook; brother in law, David Shook (Lisa); sister in law, Donna Shook Seay (Ricky);nephews, nieces and a large extended family.

He was preceded in death by his mother Pauline Iversen, sister in law, Debby Iversen and father in law; Dennis Shook.

Bill was a graduate of Lafayette High School Class of 1979 and worked at Camp Peary for 29 years. Bill always enjoyed spending time with family and friends.He was the kindest most caring man that loved making everyone smile and laugh. Bill was always being a prankster and if there was music playing….that man was dancing! Jus Saying!! Bill was always there for everyone. His passions were hunting, camping, NASCAR, softball, volleyball and riding his Harley. He will be missed dearly by all to include his Chihuahuas Margarita and Poncho.
In lieu of flowers, contributions may be made to Law Enforcement United Team Victory Riders (Please make sure payments are directed to Team Victory Riders), care of Pastor Sam Frye or James City County Volunteer Fire Department, 3135 Forge Rd, Toano, VA 23168.
A Celebration of Life will be held this Saturday March 26, 2016 1:00 – 4:00 pm
First Simple Church 16401 Chickahominy Bluff Road,Williamsburg, VA 23185
Service and Reception immediately following outside on church lawn.Please bring a covered dish to share. Carpool if possible…limited parking on site. Per Bill's request please dress casual and ride your motorcycles if you would like.
Thank you to everyone for your prayers and kind words!
December 24, 2015: Wishing all LHS classmates a happy, healthy and safe holiday season.
REUNIONS AND CLASS GET TOGTHERS
REUNION 2015 - OCTOBER 9, 10 AND 11, 2015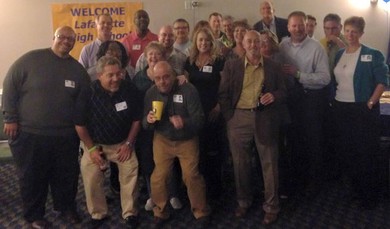 Picture courtesy of Theresa Howard Robertson, October 11, 2015.
October 11, 2015: Post-Reunion Recap
Friday night classmate attendance (no particular order): Eric Stone, Thomas Shields, Barbara Green-Kearns, Cherrine Henk Reed, Roy Henk (class of 1978), Jimi Asby, Bobby Cox, Barbara Emanuel, Ellen Lee,Christy Carver, Lori Durrette, Terri Gilley, Mark Walker, Terry Tabb,Daphne Thompson Francis, Mark Iannuzzi, Vicki Bloom Shaffer, Lorie & Duncan Morrell, Robert Purdie, Jeff Schell, Steve Donaldson, Berry Pate, James Pullen, Sharon Gardner Pullen (class of 81), Earnest Higgs (class of 78) and Kathy Brice.
Saturday night classmate attendance (no particular order): Eric Stone, Thomas Shields, Barbara Green-Kearns, Cherrine Henk Reed, Roy Henk (class of 1978), Jimi Asby, Bobby Cox, Robert Purdie, Jeff Schell, Theresa Howard Robertson, Steve Donaldson, David Garland, Bill Kinsey, James Pullen, Sharon Gardner Pullen (class of 81), Mark Canada (class of 81), Marcelo Palmaz (class of 81), Kim Emerson-Tipton, Paulette and Hansford Taliaferro, Scott Brooks and Kathy Brice.
Thanks for coming. It was great to see all those who attended. To those who took pictures, please post when you can. Here and/or on the Facebook group page.
No others planned at this point.
Welcome to the Lafayette High Class Of 1980 web site. This site is free (unlike Classmates.com). We plan to keep this site up even past the 30th reunion. Donations are welcome to help fund the site.
Please check back often for updates and classmate information.
---
Note: Profantity or inappropriate content is subject to review and may be deleted at any time.