Lafayette High School - Williamsburg, VA
Class of 1980
In Memory
Roy Dean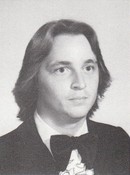 RANDY DEAN

NORTON, VA – Randy Dean, 56 died Thursday, February 7, 2019 at his home on Guest River Road, Norton, Virginia. Randy was a stock clerk at the Food City Store in Wise, VA, and with the former Ingles Grocery in Norton. He was a son of the late Lester and Monette Smith Dean.

Surviving are his sisters and brother: Doris (Lawrence) Sligh, Lenexa, VA, Lois (Scott) Miles, Toano, VA, Stacey (Ray) Wooten, Toano, VA and Ricky (Janet) Collins, Barhamsville, VA; and several nieces, nephews and cousins.

The family will receive friends at 1 PM Monday at the Hagy & Fawbush Funeral Home in Norton. A memorial service will be at 1:30 PM in the funeral home chapel with the Reverend Darrell Bolling officiating. Memorial contributions may be made c/o Hagy & Fawbush Funeral Home, 956 Park Avenue NW, Norton, VA 24273.